Origanum Dictamnus (Dittany of Crete)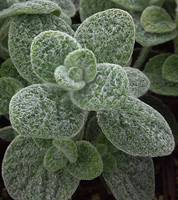 Origanum Dictamnus is being cultivated in Embaros and the surrounding villages. The cultivated area extends anywhere from 20 to 100 acres, depending on the price that's shaped in the market in the previous farming period, without particular planning, organisation or market research. The Italian house Martini, as well as several others, have presented remarkable interest in the ethereal oils of the Origanum Dictamnus, besides the absorption, in large amounts, of the drained plant. Origanum Dictamnus has been proclaimed an endangered type of plant, although the local culture aids in its preservation.
The current conditions in the market of main agricultural products of Crete (such as olive oil, citrus fruits etc) as well as the tendencies of the international market and the turn of the consumer public in natural products and the applied agricultural policies in the national and European levels are aiding, more than ever in the past, in the cultivation of aromatic plants in our island. Additionally, the drive to preserve it as an endangered plant aids these efforts.
Origanum Dictamnus is being cultivated for over 70 years in Embaros, and almost all of the Greek production of the plant comes from its immediate area. Especially in the so-called "Erontohoria", Origanum Dictamnus is considered an exclusivity, and large part of the local economy depends upon its cultivation.
Historical Background
The collection of Origanum Dictamnus used to be a dangerous work, and it was carried out mainly in August, when it blooms, by people who were proficient in rock climbing. Because of the hazards this imposed, it took the name "Erontas", closely related with "Eros", because one had to have the passion and love for the plant and their families in order to risk their life to gather it and offer it to them. Its collection was and is done with trading in mind, in Greece as well as abroad. The ethereal oils of the plant are being used in perfumery, and are used to flavour of various drinks, such as vermouth.
Its wondrous properties are mentioned by several ancient writers such as Homer, Aristotle, Evripides, Theofrastos, Virgil, Plutarch, Dioskourides, Galinos etc. They mention it as being effective with dealing with kidney conditions, intestine poisonings, and so forth. These have been confirmed by contemporary researchers, and it's widely offered as a beverage. According to mythology, the plant was dedicated and linked to the goddess Artemis, because it supposedly helped during childbirth. For the same reasons ancient Greeks put a diadem made of the plant's leaves on the goddess' statues. It has also been used as a hemostat and it is thought that wild beasts used to eat it too when injured by hunters.
Besides cell toxic, the ethereal oil of Origanum Dictamnus also demonstrates properties of an insecticide. It's been traditionally used as a hemostat and healing substance, and its benefit to stomach ulcer has been recently confirmed.